My Story and how I did it.
My name is Chris Ryan I am the owner and builder of this web site and this is my story
The greatest passion in my life, after my family that is, was to travel around my great country and meet people. I also felt a strong need to help other people get to know and enjoy the wonders of Western Australia and it's magnificent scenery and destinations.
Where I am lucky enough to live.
But how could I do that?
In reality I didn't know how. Surely an ordinary person doesn't get to show the world's people the places he loves so much, the place he lives in. But I was wrong about that.
I've managed to do just, that by building this web site which earns more than enough money to enables me to travel more and write about my city and state and about the people I meet so you can get a good idea what Perth and Western Australia are about.
I really do love to share my adventures and new travel experiences with other folks so that I can help them to know, to love and enjoy what is without a doubt, the world's best holiday destination.
My biggest worry used to be that I was stuck in a mind numbing job just so that I could exist and pay the bills.
Like most people my job was a time consuming and tedious job. In reality, I was stuck with a less than inspiring job, although the money was good, a sizable mortgage, a growing family and the fact that my time was not my own wore me down.
And you too can do just what I do, you will find out "How" just below.
Are you Worried about the world financial crisis?
Take heart, there is a way forward to financial independence
You do not need to fear what the future may bring
I don't
You really do not need that 9 to 5 job or a cranky boss
You don't really need to rely on Gov't handouts anymore
All you need is a small investment, the same small investment that I have made and you too, can overcome any recession.
How?
"The biggest mistake people make in life is not making a living at what they enjoy doing most."
Testimonial
"Having the opportunity to share Perth and Western Australia with so many people around the world is a great satisfaction to me. As a bonus, I get to go on a tax-deductible vacations several times every year. I can visit anywhere in my beautiful state, drive my 4wd, take lots of photos, meet great new people, and write travel guides and stories about places I love. I felt that money would just be the icing on the top. Of course, I did not realize how much icing my cake would have." Chris Ryan
perth-getaways.com
By the way, I am affiliated with Site Build It! (SBI!), and will receive a commission from them that helps to supports this site if you make a purchase through one of these website links. It won't cost you any more than going directly to them, (SBI)

I am affiliate of theirs because I know I could never have built this website without them! They truly make it possible for those of us that aren't computer nerds to accomplish our goals, whether for a fun website or for a home business.
Here is what you need to to emulate my success so go and
read about other peoples incredable "Success" stories and be prepared to feel amazed.
because you certainly will be
So.
Buy yourself a "Site Build It", the web hosting program I use, build a site about your passion, your love and protect yourself against any future crisis.Protect yourself now, against future financial crisis
Check it out, you deserve more out of life, much more.
SBI 2.0 for $29.95 a month, can you believe it???

The little graphic above says it all for me, because I do love it, totally, so
I am pleased to announce that Site Sell has decided to help those of us who have financial problems or find it hard to afford the full price upfront for SBI 2.0 by allowing us to get a copy for a low monthly fee rather than stretch our budgets by paying all right at the start.
SBI 2.0 can now be yours for just $29.95 per month.This payment change reflects Sitesells concern for those of us who would love to start an online business but can't afford to do so. Sitesell is a company that cares about the little people and goes out of it's way to help us whenever it can.
Yep! that's me on the Bibbulmun Track.
I was actually gazing at what I thought was a koala about 15 feet up the tree beside me, but it was two wild cats resting in the trees fork
Do it yourself, with the best tools to help you toward success.
Do it for me, Step by step Online, email and phone consultation as you build your site.
Get an expert webmaster to do it for you totally, your dedicated SBI Specialist will builda 10 page, 20 page or 35 page web site for you that succeeds.
Here is a short list of people who use SBI to achieve success.
Offline entrepreneurs use SBI! to do the impossible.
Those who sell services elbow out the competition.
Dentists outrank their local competitors' Web sites.
Local businesses open up global opportunities too.
Ordinary people like me, people who are retiring, people who have lost their jobs.
People who want to lead a much better lifestyle.
Back to the Story:
So, there I was, no ideas, no clues on how to share my wonderful state with other people who may grow to love Western Australia too.
Then I started reading about "Site Build It" ( A web hosting program), suddenly, something clicked, something which for years had seemed like a vague dream, was suddenly there, staring me right in the face. It hit me like a brick really, right in the face. Ouch!!
Here it was,my chance to write about my travels and earn money with it, and I didn't have to be one of the worlds top selling authors such as Tom Clancy or Wilbur Smith to do it either.
I didn't know anything about websites or HTML, but I certainly knew a life-changing opportunity when I saw one, so I jumped right into it.
In fact, come to think of it, I did not even know how to send a photo by email. Duh!! Talk about dumb.
Have you ever had the desire to buy a "Rolls Royce" but the $300,000 price tag intimidated you?
What if you went into the showroom and the sales person said to you "Friend this is the best car in the world but I can give you a special deal" if you buy it before Feb 14th.
So if you could raise $200,000 to your dream, you would do it wouldn't you?
What if realising your dream cost about 82 cents a day, wouldn't you grab it with both hands? I did, why not you?
Here's how I did it and how you can too.
My Rolls Royce of web hosting has allowed me the freedom to choose whatever lifestyle I desire, What are you waiting for? get moving and grab a "Site Build It" and build a site about your passion so you too can choose the lifestyle that you want to lead.You will get more than just a "site builder." You won't need to worry about looking for separate hosting, paying for a separate keyword research tool, handling site submissions, integrating autoresponders, etc., etc. See the full list of features here -- pick the most relevant ones for you and your future reader.
And I now have a SBI! site. That is growing everyday for me and making money.
I guess the most important aspect for me though, is not the money! although I do like money, as much as the next person.
It's the freedom that SBI! gives me to do my own thing, whenever I want.
It's always been my dream, my goal to be able to spend at least part of the year traveling.
With SBI!, I can do that. I just pack the laptop and go wherever I want, for as long as I want, 2 months, 12 months it does not matter!
And I no longer have to worry about finding employment and earning an income, the web site and Site Build It do all that for me
Thank you SBI for making this possible! You saved me and made all things possible.
Life is certainly not passing me by, don't let it pass you by either. So get out there and grab a new life for yourself, grab it with both hands, you will never regret it.
A grateful Baby Boomer,
Chris Ryan.
Why do I recommend Site Build It?
Here's an example,
if I had been guaranteed $20K for recommending SBI, but upon checking it out and using it, I didn't think it would be effective for my sites visitors, I'd never have recommended it here to you.
I'm sure that isn't a surprise to you. But the fact that I'm the kind of person who's willing to decline such an offer without being tempted, is the very reason I'm able to earn up to $20K in 3 weeks when I do recommend something.
In other words... My readers come first. That's really the mind set that make my recommendations work. It's not just what you sell that generates income. It's what you decline to sell.
So what is SBI, Wow! that is a hard question, but here goes,
To me SBI is a set of educational tools and hosting, that provide any business, hobbyist or entrepreneur with the knowledge to succeed the "Right Way" online! and it is easy to use.
And that's why I highly recommend SBI to anyone, a business, an individual person of any age, it gives you the tools and support to unleash that creative power that lies within all of us.
Heck! 14 year old's and 90 year old's use it and succeed, so you can too.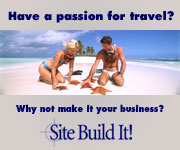 Worried about the financial crisis?
Take heart, there is a way forward to financial independence
You do not need to fear what the future may bring
You do not need that 9 to 5 job
You don't need to rely on Govt' handouts
All you need is a small investment, the same investment that I have made and you too, can overcome any recession.
How? Buy a Site Build It, build a site about your passion, your love and protect yourself against any future crisis. Here's how to protect yourself against future financial crisis
Check it out, you deserve more.
Do you own a local business and need a web site to grow your business? Here is an easy way to get one, Read this page and click the link to check it out Are you a local business owner who has a web site that's failed?
Find out how to change that, just go to this page, click the link and your worries will be over. Yes! your worries will be over when you read this Perhaps you think that you cannot build a Top Selling web site.
If that is the case then here's a way to get that site without having to worry about anything at all. Site Build It has a group of experts who will help you out and be happy to do so.
It is called Site Sell Services and you can find Site Sell Services Here Go there and have a look, you will be able to call them, email them or employ them. These experts are not there to sell you anything, they are there to help you to increase you bottom line and only that.
In this the day of falling profits people like me do not need to worry about recession and downturns, we have SBI and our sites and they are recession proof.
Got Doubts? Don't blame you. But your future is in your own hands so do something positive about it, click the link above above and read what it says.
It's all there for you.
Here is a Free E-Book all about marketing on the web, it's a great book that I also own and more importantly use.So grab your Free copy now while it is still available.Read it, absorb it, before you do anything about marketing online. It's a rare "Gem".

Click here for your Free copy of Make Your Content Presell
Given the economic down turn the world is currently experiencing, it is time for businessesto look at different ways and means of increasing their income base.
I have just started a new service for businesses to help them out in this era of diminishing returns.You can read about it here Sell your products on this web site ( Opens in New Window ) Just close it and you will return here.
Go to perth getaways home page
Contact Details:
Chris Ryan
6 Dardanus Way Heathridge
Western Australia. 6027
PH: 61+ 0404737061
Email:
Contact me by email if you need to have a chat. I will help you no worries.
Return To Top
Powered by WebRing.